WELCOME TO BLOOM
A family friendly national hub of multi award-winning Baby Classes
Every parent and caregiver looks forward to a great baby class when blessed with spending quality time with their little ones, and there are many reasons why Bloom Baby Classes are so popular with babies and parents alike.
At Bloom Baby Classes, your baby will love learning through each of their senses. Each class is specifically designed to aid your child's development, whilst also strengthening the bond between you and your baby. With a different theme each week, our classes will provide your little one with new sights, sounds and sensory experiences for you both to discover and explore together at each session.
Each of the classes we put on here at Bloom have been perfectly planned to provide many benefits for you as well as your baby. Bloom classes encourage every part of your growing baby's development; stimulating their inquisitive minds as well as their growing bodies and physical development.
Bloom are proud to run baby classes across the UK and the US, and you can use our Class Locator to find your nearest class.
Can't find a class in your area? Have you ever considered running a Bloom Baby Class yourself? Visit our Bloom Franchise page to find out more about lovely parents and caregivers just like you who are doing just that.
The perfect class for babies aged from six weeks to six months.
Caterpillar Club is a gentle, multi-sensory baby development class designed for all of our younger babies. The classes feature the opportunity to engage in a calming baby massage at the end of each session, to really enhance the bond between you both – and to ensure a long nap for your growing baby, too! Classes in our Caterpillar Club focus on your baby's cognitive, linguistic, physical, social & emotional development in a fun, relaxed and creative way.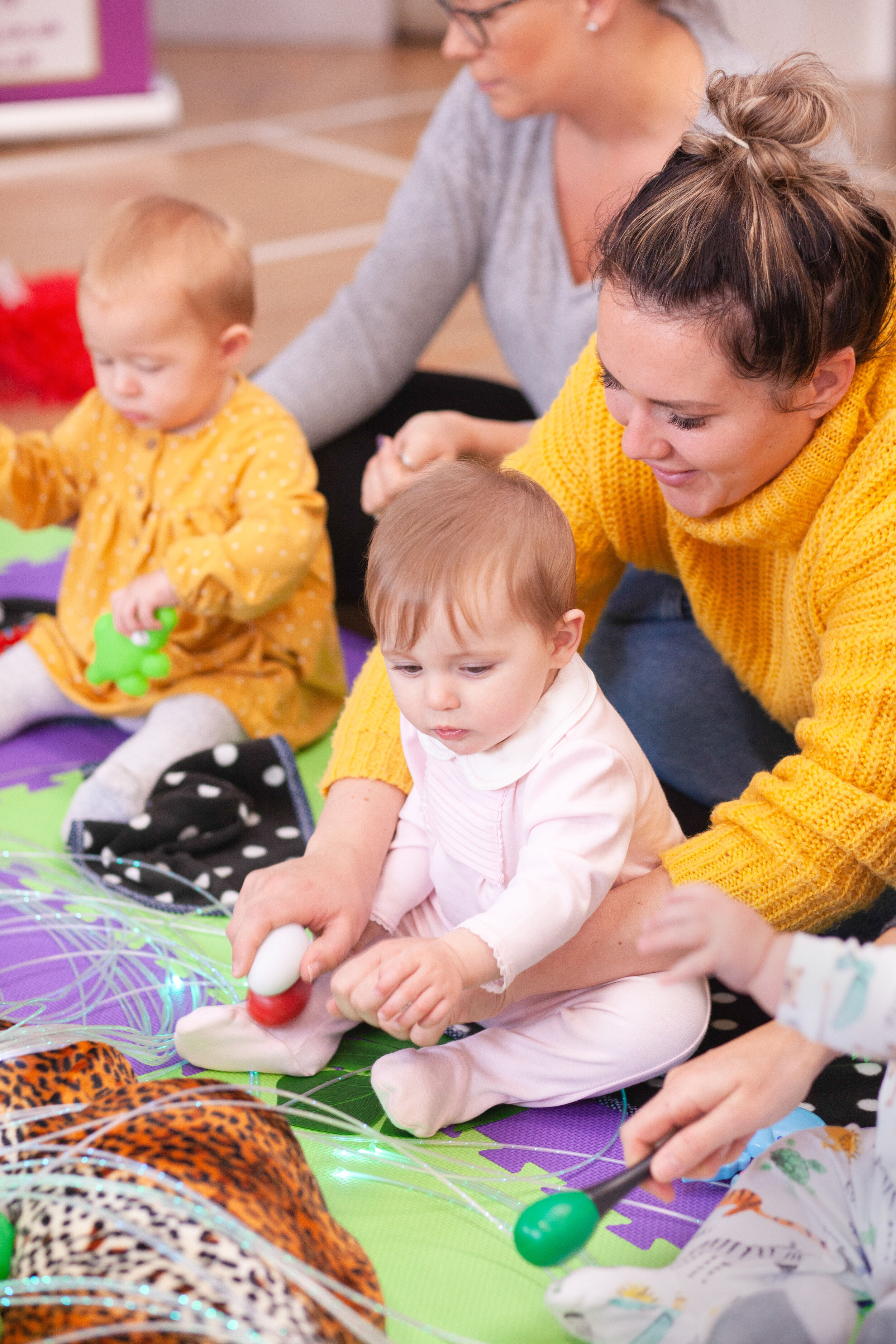 This is the class for babies aged 6 months and over (up to walking).
Our highly interactive Busy Bees baby development classes are perfect for babies busy getting ready to get mobile. Your baby will stretch, roll, reach, crawl and shuffle through a wide range of activities that will stimulate and encourage their fine and gross motor skills, body awareness and early language acquisition. Each activity has been researched in line with Early Years ages and stages of learning to engage your little one whilst promoting that special bond between you both.
Find your nearest class
Classes nationwide across the United Kingdom and classes launching in September 2019 in the United States.